MorningStar joined forces with Helping a Hero on August 9th, 2018, to give a hero's welcome home to Sargent James "Shane" Ray, U.S. Army. At MorningStar, we believe in the power of community, and we are proud of our community's ability to come together to support a heroic family in need.
In October 2017, we broke ground on a home that offers top of the line features and was specially designed to make living easier for Sgt. Ray's specific needs and the right amount of space for his family. This was also part of a project with Helping a Hero. Tragically, the Ray family's home burned to the ground and they lost everything. MorningStar believes in helping its own, especially when they have sacrificed so much for our nation.
Sgt. Ray lost his leg to an IED explosion in Iraq. The family shouldn't have to shoulder another tragedy, and MorningStar was determined to help the family begin life anew in a home they love.
Helping a Hero Celebration
On August 9th, we sponsored the Helping a Hero Warrior Concert & Celebration. It was a warm, festive community event. We welcomed local police, a crowd of veterans and active duty soldiers, and neighbors of all backgrounds and walks of life eager to honor the Ray family. Lee Greenwood performed, and we were all deeply moved by his patriotic rendition of God Bless the USA.
The Ray family loved the celebration. And our community got to come together to remember what makes MorningStar great: a commitment to service, and to each other.
Welcome Home Celebration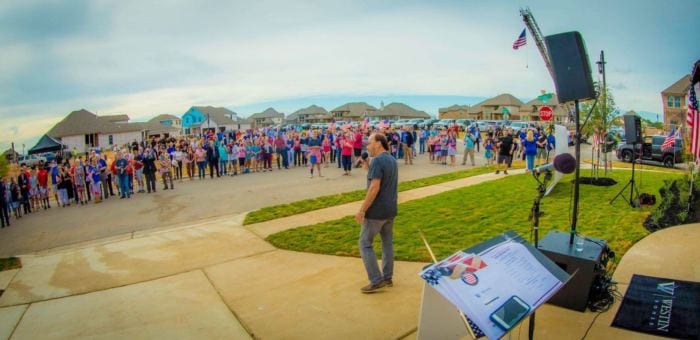 The next day, we welcomed Sgt. Ray into his newly furnished home. Sgt. Ray wheeled in slowly at first and began beaming the moment he opened the door. The new home features a fully stocked pantry, gorgeous furniture, decorations that memorialize and honor Sgt. Ray's patriotic sacrifice.
The Ray family's new home is one of Westin Homes' most prestigious models. It includes high-end features and is fully accessible to meet Sgt. Ray's unique needs.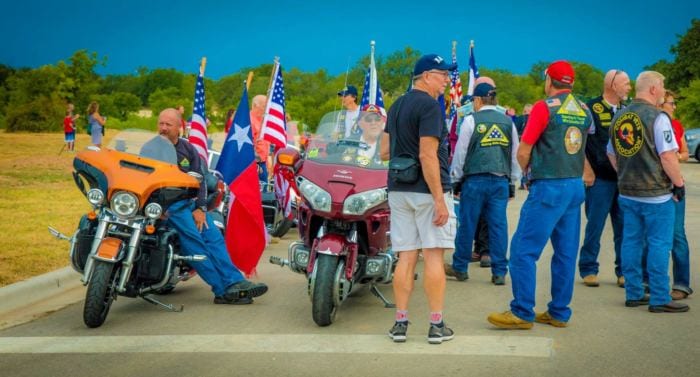 The Patriot Guard Riders dedicated the home. They showed up with 10 bikes and a flag truck to honor this beloved soldier.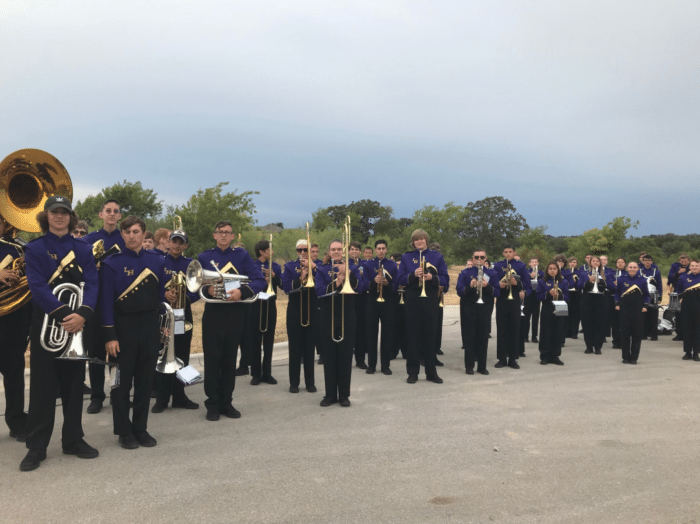 Providing music and local community support was the LHS Panther Band as they paraded behind the Patriot Guard Riders—a grand site.
Senator Ted Cruz spoke at the event. "In his service to our country and defense of our freedoms, Sgt. Shane Ray has sacrificed much," Sen. Cruz told the crowd. "When tragedy struck and the Ray's were left with nothing after their home burned to the ground, their church and community rallied behind them. I can think of few responsibilities more important than our duty to serve the brave men and women who wear our nation's uniform, and to care for them when they return to civilian life."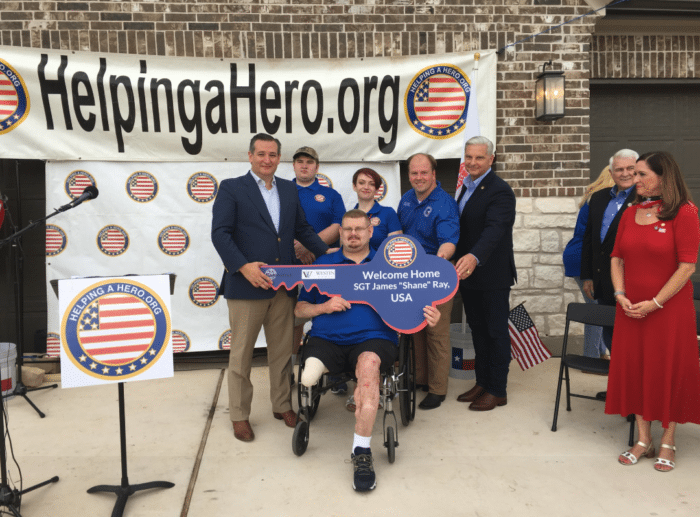 Senator Cruz proudly presented the Ray family with keys to their new home.
Retired General Anthony "Tony" Cucolo also spoke to the crowd.
Perhaps most importantly, the celebration served as a powerful reminder of the most valuable resource we can offer the Ray family: support, care, and a commitment to one another. We're honored to have helped support this wounded warrior, and we look forward to the chance to do it again.