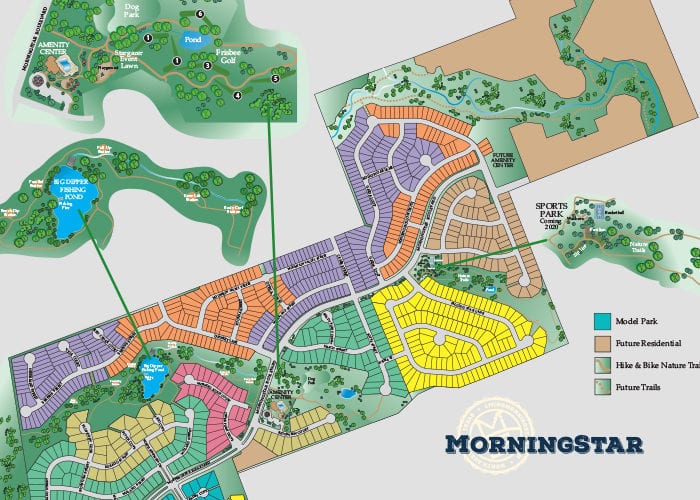 These are exciting times at MorningStar, full of growth and endless options for first-time buyers, growing families, move-up buyers, and empty nesters. Plan your visit to tour our models showcasing the latest in new home technologies, energy-efficiency, and thoughtful home designs. Premier home sites are located throughout the community. Adjacent to the MorningStar resident amenity center, Saratoga Homes offer luxurious designs on 60′ lots from the $350,000s to $500,000s. You will instantly fall in love with Ashton Woods and their distinctive designs, as well as their available home sites. Meritage Homes debuted their Americana series with a new model home and enhanced their offering to feature the perfect home for our 40′ and 45′ lots from the $250,000s! Newest Model Homes to open are, Ashton Woods, Waterloo Homes by Brohn, and Dream Finders Homes, debuting even more variety in new home design and pricing options. Click here to tour our interactive community map to plan your visit.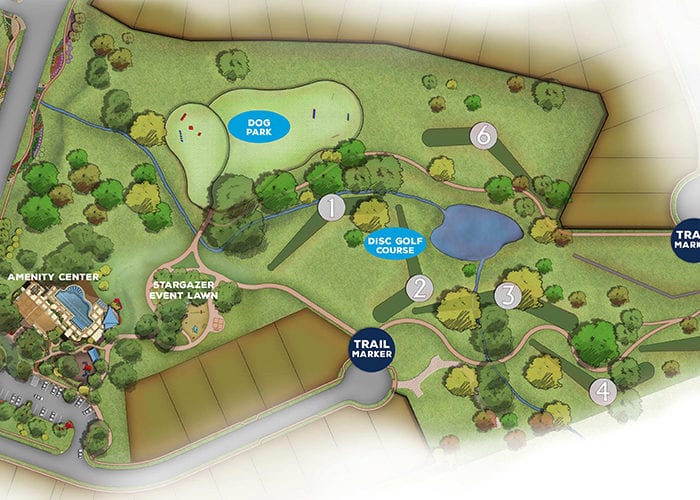 It is easy to love the amenities at MorningStar. We have thoughtfully designed each and every space for our residents to enjoy now and well into the future. The MorningStar amenities are geared toward promoting community connection. Our convenient nature trail system connects homes to amenities throughout the community, allowing residents to walk their way along beautiful greenbelts to the community's perfectly adorned amenity spaces. The existing amenity center features an oversized pool with a lap zone, open-air pavilion, fire pit, and a children's splash pad. Parks, greenbelts, and ponds were all thoughtfully placed at MorningStar to enhance the area's natural beauty. Recently opened are a host of new amenity features – The Big Dipper Fishing Pond and Pier, the MorningStar Dog Park with obstacles for fun training sessions, the Nature Trails feature fitness-inspired exercise stations, and our 6-hole Disc Golf Course and Stargazer Event Lawn are now open giving our residents even more space for daily activity. Next year we will welcome the MorningStar Sports Park and start construction on our second amenity center.
MorningStar is excited to announce Ashton Woods, Carothers Executive Homes, Dream Finders Homes, Saratoga Homes, and Waterloo Homes by Brohn as the newest builders to join the community. We have an all-star cast of builders, new sections opening up with new home designs, and great pricing which makes it easier than ever to find your dream home here in MorningStar. Click on the image above to learn more about all of the MorningStar homebuilders.
Making friends at MorningStar is easy! Throughout the year we will host quarterly events dedicated to bringing MorningStar residents together for family-friendly fun, games, food and so much more. Events will be hosted throughout the community at our beautiful line-up of gathering spaces. Be sure to click the image above to find out about our upcoming events.
Latest News
History has shown that large social disruptions such as economic downturns – recessions or depressions – or international health crises, such as the COVID pandemic, can have both short-term and long-term effects. In some cases, the unforeseen consequences can fundamentally change the social fabric. This seems to be the case with the employees who are now working from home and plan to continue to do so, long after the pandemic is just a bad memory. Many media reports have noted that, in…

View Article

Some of the questions often asked by homeowners in a master-planned community such as MorningStar relate to the homeowner's association (HOA). "How does it work?" "What does it cost?" "Why do we even have to join?" The key concept behind an HOA is its role in maintaining the value of the investment of every homeowner in the community. According to this article "A homeowners association, or HOA, administers a contractual agreement among the resident owners in a planned community to…

View Article