More than 175 million Americans celebrated Halloween in 2018 according to CNN, with seven out of ten consumers handing out candy. Total spending in 2018 reached $9 billion, with the average consumer planning to spend $86.79 on decorations, candy, costumes and more.
Needless to say, that's a LOT of candy corn and spooky costumes!
As one of the most family-friendly communities in the Austin area, MorningStar, goes all out for Halloween with decorations, parties and (oh yes) TREATS for kids. Because of its close-knit neighborhoods, kids (or ALL ages) can dress up and have fun in a completely safe environment. The parents of the little princesses, football players, pirates and hundreds of other Halloween fantasy characters really appreciate the family vibe of this extremely popular holiday.
Need Some Costume Ideas for Kids?
There are so many great places to find cute costumes for kids. The social media site Pinterest is packed with thousands of ideas. Another great place to find easy-to-make (while still being COOL) costumes for kids is the website Bored Panda. These costumes are virtually guaranteed to help a child snag even more treats from MorningStar homeowners. Here are a few to get your imagination started:
Halloween Home Decorations
Most MorningStar residents have everything they need to turn their home into a Little Shop of Horrors out in the garage. Cemetery tombstones are easily constructed from cardboard boxes. A little display in the front yard featuring dry ice in a large pot with a sign suggesting:
Try our eye of newt soup. It's ON SPECIAL for only $100 and it tastes HORRIBLE!!!!
It's hard to go wrong with a giant spider and web on the side of the house…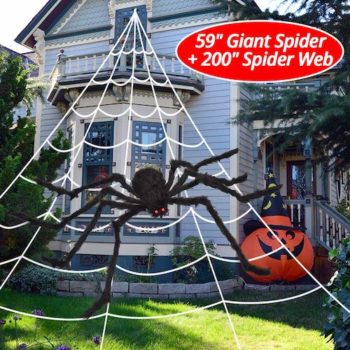 It's available fromAmazon for $28.99
Another great source for Halloween decorations is What's Up Mom. Click here for three, DIY "Super Spooky" ideas that can be made in a few minutes!
Enjoy Every Holiday at MorningStar
Families matter at MorningStar and holidays are even more special here.
The MorningStar community, located just north of Austin in the beautiful Texas Hill Country, is close enough to employment opportunities in the thriving Austin area but far enough away to allow families a chance to enjoy every holiday in a safe and fun surroundings. You only get a few years with your kids, and now is the time to make those memories that they (and YOU) will never forget!
Click here to find out more on MorningStar. It's scary how much fun you can have!