Temperatures may still be scorching, and many of our tomato plants are still blooming like crazy. But autumn is on the horizon. You can feel it at night, as a crisp chill settles in. Days are getting shorter, and Halloween is just around the corner.
At MorningStar, we never miss a chance to celebrate together. This weekend, we celebrated the beginning of cooler weather and the transition from tomatoes and roses to pumpkins and corn. Residents came together on September 29th to celebrate the change of seasons at our Fall Festival.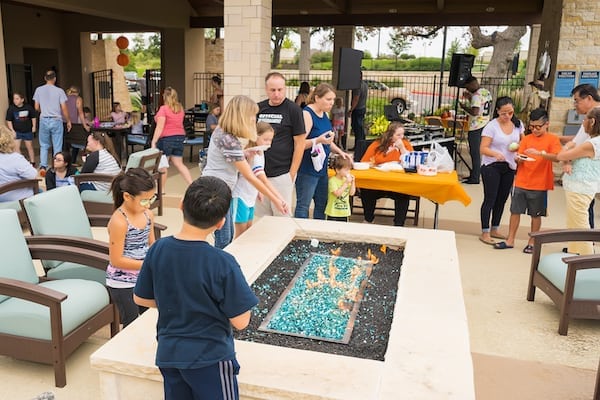 MorningStar's Fall Festival Recap
The MorningStar Fall Festival was a big hit! Our Fall Festival ran from 4-7 PM September 29th in the Amenity Center. We had a great turnout, with residents young and old joining together to create a festive atmosphere. The festivities staved off the rain, and young ones had fun with outdoor activities like s'mores-making at the fire pit. The fall foliage provided a great backdrop for family photo ops.
Kids personalized trick-or-treat bags with their creative skills and some candy to start their supply. Others got to show their athletic abilities with the football inflatable games and toss. Amateur artists showed off their painted pumpkins with winners receiving gift cards.
There was homestyle food like baked beans, chili, mac 'n cheese, and mini pumpkin and pecan pies to satiate the sweet tooth. The DJ spun some hit tunes and The Goddard School made an appearance to say hello as new neighbors of MorningStar.
We also hosted a raffle giveaway. Because what fun is a festival without prizes?
MorningStar: Celebrating Every Chance We Get
MorningStar was founded on a simple notion: that life should be enjoyed! We believe in luxury living at an affordable price. We support old-fashioned neighborhoods where kids can play in safety and neighbors actually care about one another. And we never miss a chance to celebrate!
We're proud of the close-knit family we've built at MorningStar. Whether it's supporting our troops through our Helping a Hero Event, our legendary Independence Day celebrations, or bringing in the holiday season with festivals and arts and crafts, we know how to celebrate all that makes life worth living.
Each lot features luscious natural beauty, stunning views, and elegant landscaping. With thoughtful architectural elements and a thoroughly modernized approach to homebuilding, our builders prioritize comfort and luxury at every step.
Ready to learn more, or to find your MorningStar community? Give us a call, or begin your search for the perfect new home here.
Click here to see event photos.