The decision to buy a new home is both exciting and nerve-wracking for any young family. For J.D and Nikki Almond, this process proved to be positive experience that they will never forget.
"Our experience has been fantastic," J.D said. "From our initial visit with Juston at GFO Home, through the entire process and all the way up to completion. My wife just said the other day, 'I'm still so excited to go home to our new house.'"
What were the factors that caused the planned community of MorningStar to rise to the top of the wish list?
"Initially it was the floor-plan of our GFO Home," he said. "Nikki and I both said this is almost exactly how we'd want a house if we chose to custom build it. Plus, we liked the fact that Morningstar is a good size community but not overwhelmingly big. It still has a great country feel to it."
A Great Time to Invest in MorningStar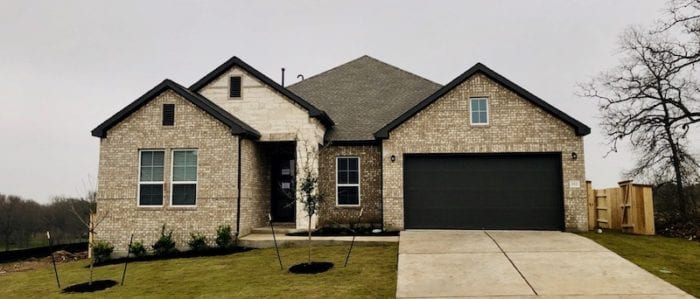 Building a home in a planned community such as MorningStar is a great business decision , especially now. J.D. and Nikki Almond have seen this increase in the value of their property already and this appreciation is one of many factors that make them happy about their investment.
"Our property value is going up over the next several years as our area continues to develop," he said. "I would tell anyone who's looking not to wait. Just in our short period of time of being here we've already witnessed an appreciation of value."
Great Amenities, Design Options and a Location Close Enough to Enjoy Them
The design options of a GFO Home are a great fit for any size family and lifestyle – from first-time buyers, to move-up buyers, to empty-nesters to 55+ buyers. When these are combined with the layout and location of the MorningStar community, it's a win/win for homeowners.
"I like how the location is dead center between 183A and I-35 from the standpoint of getting places," Nikki said. "Anytime we've had guests, they always say 'we got here a lot faster than we thought we would".
"In addition to that, having a pool that we don't have to maintain is great. Plus, we love the trails and they will just get better and better as they are extended. This is a great place to live if you enjoy an active lifestyle. Taking a few cold beers or a bottle of wine out by the fishing pond after work is a great way to end the day!"